How I Turn Lazy Promo Code Users To 90% Leaving A Review
The problem: You run a promotion of 50 units, and you only get errr.... maybe 65% that will actually leave a product review. Which means.. to get 50 reviews (which was your goal in the first place), you really have to give away more like 75 units.
Okay so, it's not that they're lazy... it's cause:
They forgot, and keep forgetting.
They are busy, very busy.. probably saving babies in run away strollers.
Your product sucks and in the garbage ready for Thursday morning pickup.
If only you could give #1 and #2 a slight nudge, or two, or three. Maybe like.. a.. set of your own follow up reminders on auto-pilot that does it for you? Problem solved.
SOLUTION: We released a feature where you can target and send feedback requests to ONLY orders that used a promo code.  (credits to my friend Jason R.)
---
Good Promos, Bad Promos
I have two different ways I distribute promo codes:
Ones I give to forums and communities of my exact target market that my brand is active in.
Ones I use with Review Exchange groups or websites (what most people would think when they hear promo code reviews).
Disclaimer: I really, really believe #2 is going to shit (for the majority) by late summer... something I projected early last year. A complete breakdown post on this coming next week (you may want to subscribe to be notified!)
With that said, #1 is what I would consider white hat aka No intention of gaming, but really engaging the real and hardcore users of your product and it's niche. (deep post on this method coming next week as well, so *achem* subscribe to avoid missing it)
Anyways, since I run two different type of promotions; I run two separate follow up funnels. Each one that specifically addresses the two different promo code users with different messaging and tone.
---
My Funnel Sequence
Each funnel has 3 Hunts (this is commonly called Campaigns in other email software like Mailchimp, GetResponse, etc.), with each Hunt having it's own custom Template a.k.a. content of the email body.
For the following example; I am showing my email funnel associated with promos via distribution method #1. I left out the funnel for distribution method #2 for the sake of time, but the only difference is in the messaging/content where I swap out the source of where they got the promo code, and slight reduction in tone as we probably never communicated before.
Whereas with distribution method #1, we have probably spoke in the particular forum thread about the promotion. The delivery & timing are both the same.
I also swapped out the name of the forum (AudioGearheadz), and used a made up PL brand called Robotix to protect my real products & brand.
If you'd like to explore an actual working version of a similar funnel, check out our Live Demo, specifically this Hunt.
1) The First Follow Up
GOAL: To make sure their order went well, and to plant a seed in their head that they'll need to leave a review soon.
Note: If you're using distribution method #2 as most are, these promo users have probably never been followed up with in this type of way, so they'll be on their toes as they see you are on top of your game.
TARGETING OPTIONS: I set my ASIN filtering to only target the one ASIN I am giving away. Also, this way I can run additional promos on other products as well. The other targeting filter I have on is, of course, the used promotions filter isolating only orders that's associated with a promo code. More specifics on how to use and setup this used promotions option later in this post.
DELIVERY TIMING: I set this email to send 2 days after an order is delivered around 8:00pm. 
This gives the promo user enough time to get their order, open up the box, and maybe use the item.. but at least check it out if not use it. The delivery time of 8:00pm is (in my eyes) the optimal time to send a request email. They are free from work, had dinner, and possibly using this time to either browse around the internet or watching tv... catching them in prime time.
---
Have an Oh Shit or AHA so far?
It's too late; you're hooked. You love our content. You probably made a mental note to occasionally come back for updates (as you should because we're only getting started with these gold nuggets). Problem is; if you don't subscribe, you won't know when to.
Make the world a better place, and just Subscribe. It'll make life easier for you, and for me having to somehow get new posts back in front of your eyes. Plus, you wouldn't want the sellers who do subscribe to know the latest and greatest and their Sales Summary Box leap frog yours. "Stay hungry, stay foolish."
---
2) The Second Email 
GOAL: To follow up with a single focus.. that being a direct product review request. This email includes the product's name, image, and button in a visually pleasing and familiar design.
The title, image, and button all link to Amazon's product review page. This is not the listing page, but a page on Amazon that lists all their recent order's items.. and since you can plug in your ASIN into the URL, your product appears first on the list with five empty stars right next to it, which makes leaving a review really convenient.
TARGETING OPTIONS: Same as the first email.
DELIVERY TIMING: This email I have set to go out at 9:00pm and 5 days after the order is delivered. Sending it an hour later hoping to catch those in "wind down" mode for the day.
3) Third And Last Email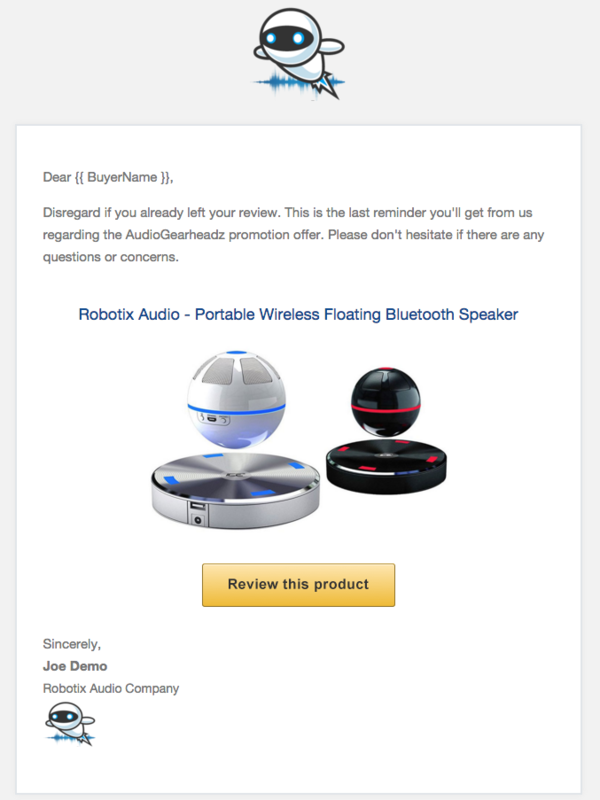 GOAL: Reaching out one last time with a direct request to leave a product review. This is literally the same as email #2 except this one clarifies it'll be the last reminder sent from me.
If a promo user doesn't leave a review by this email, chances are, no matter what you do; this promo user isn't going to leave a review.
TARGETING OPTIONS: Same as the first and second emails.
DELIVERY TIMING: I send this out at 9:00pm and at 9 day after an order is delivered.
---
And The Results.. Drum Roll...
Using the same email sequence laid out, I was able to achieve:
Distribution Method #1: 90% left a review
Distribution Method #2: 79% left a review​
Distribution Method #1
I ran 2 rounds of 30 units each.
In the first promotion round, 30 units were given to the first 30 who responded and met the requirements of having an active Amazon account. About half of these had Prime accounts. Results were:
28 out of 30 total posted a review and confirmed they left one in the forum thread,
12 of those reviews coming within the first week of delivery,
15 reviews coming in the second week,
1 trickling within the third week.
In the second promotion round, 30 units were given with priority to those who expressed interest but didn't reply fast enough from the first round. Results were:
26 out of 30 total left a review,
9 coming within the first week,
14 coming in within the second week,
2 trickling in that third week.
So 54 out of 60... 90%. Not bad, not bad at all. Even before this feature, I was getting pretty high conversions from distribution method #1 around 80% but it was a complete pain in the gluteus trying to manage requests via a forum's private messaging.
Distribution Method #2
I ran two promotions via a Promotions/Exchange platform website of 50 units each. Each promotion was for a different product.
The units were given out the standard way where you create a listing then it goes live to their user base. Since I ran the two listings at the same time, I grouped the 100 units all in one..
79 out of 100 total left a review,
38 out of 50 for the first product,
41 out of 50 for the second product,
18 coming within the first week,
32 coming in within the second week,
22 coming in the third week,
6 trickling in the fourth and fifth week.
So... 79%. Not bad, it definitely performed a lot better than I first imagined,.. considering that I had no idea what to expect considering my baseline was ~65% from previous promotions ran without this new Feedbackz's feature.
These promotion/exchange platforms websites have their own follow up emails, but having been on the other side as the reviewer a few times... you get bombarded by these emails. It's hard to organize which products need what when you have 5+ emails all sitting next to each other looking the same.
My guess is that:
Since Feedbackz's emails are different and comes from within Amazon's messaging system, it grabs more attention and stands out, thus a higher chance they remember to do this reviews amongst the others.
Much, much more beautiful. There's a clear product title, image, and button so dead simple to see what they need to do.
Easier... because the custom links take them straight into Amazon's product reviews page with your product appearing at the top.
---
Orders That Used A Promotion
The way the filter works is straight and simple: Order's Total Price.
You set a range of order price totals that the order total would fall within after a buyer uses a promo code. When an order passes this price rule; it will create a scheduled email for it (given it also passes any other filters & rules you set). It does not work off of an actual promo code, you create and manage those within Seller Central.
The trick here is to make sure your order price total range includes:
The price after the promo discount is applied.
Any shipping non-Prime buyers have to pay on top of that.
Any state sales taxes buyers have to pay as well.
Typically, #2 and #3 usually falls within give or take $5. Non-Prime buyers usually opt for the $3.99 shipping and taxes on top of the usually $1-2 promo total is not more than $.25.
Example: If my promo knocks off the price to only $1, then I'd set my range from $.75 to $6.
I set my low bar to $.75 just to make sure it catches everything... sometimes but rarely, a buyer will use Amazon credit or some other offer to knock off a few cents.
Hit Save Prices.. and setup the rest of the Hunt how you want to, and you're done. You'll see the option to Edit or Remove if you need to do that after you save.
---
That's all there is to it. We have some more really innovative features brewing in the pot and coming soon...
If you're more marketing savvy of an Amazon seller (or becoming!), definitely check out our Live Demo (no sign up needed). Feedbackz caters to the more 'out of the box' thinking, quick-footed sellers; those looking for edges in ranking their products, optimizations, conversions, making good impressions to buyers through design and copy writing, etc.
Any questions from our users, feel free to submit a ticket in the app. All others, please email [email protected]